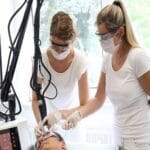 Laser Courses
Laser Courses
4,450.00$ – 6,850.00$
4,450.00$ – 6,850.00$
Most Wanted
Small details:
The duration of the theoretical courses is 15 days
The duration of the practical training is 10 days
Duration can be shortened increasing training hours
Description
Additional information
Reviews (0)
COURSE DETAILS
Description
Laser courses
Laser courses which are courses that teach the uses of all types of lasers in the medical, cosmetic and therapeutic fields
Courses include theoretical study and practical application
During the theoretical study, the trainee receives study materials in the language spoken by the trainee,
Notamment:
Materials related to the field of therapeutic, medical and cosmetic lasers, after having followed theoretical courses
The trainee is examined in basic materials in laser applications, which qualifies to proceed to the practical training stage
During practical training on the uses of laser devices in all cosmetic, therapeutic and medical fields
The trainee is trained in the use of laser devices and their applications
Note: The trainee can benefit from theoretical distance courses without the need for theoretical presence, only
He can come for practical training
After completing the courses, the trainee receives a certificate from an academy, which qualifies him to work in the laser field or open his own laser center.
Distance laser course:
An integrated training program includes online lectures three days a week, a total of 6 hours per week, in addition to file uploads and a training program with explanatory videos.
On the uses of laser devices in the language of the trainee, and the trainee has the right to attend and participate in the practical sessions of an application during the sessions, and this is done one month before the date of the practical sessions, according to the desire of the trainee
Course dates: Beginning of each month
Course locations: Turkey, Istanbul, Egypt, Cairo, Iraq, Erbil, Germany, Frankfurt, France, Strasbourg
The trainee obtains an accredited European diploma in case of presence or not, at the choice of the trainee
No prior certification is required to participate in the courses
Benefits for the trainee in the laser field:
First – if the trainee purchases a laser device,
he will receive free training courses in the field of laser
Second – The trainee will receive a free subscription to future courses organized by Alrmal company
Third – the trainee will receive a set of gifts provided by Société Européenne d'Alrmal
Fourth – Membership in the German LIS Academy, and among the benefits of membership is getting 15% discounts on all products
European company of Alrmal
laser courses
Additional information
| | |
| --- | --- |
| Course attendance | Attending courses, Online Courses |
---
Only logged in customers who have purchased this product may leave a review.
Note: Course dates are at the beginning of each month
Course locations: Turkey, Istanbul, Egypt, Cairo, Iraq, Erbil, Germany, Frankfurt, France, Strasbourg
The trainee obtains an accredited European diploma in case of presence or not, at the choice of the trainee
No prior certification is required to participate in the courses