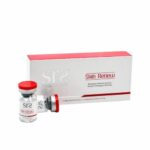 Mesotherapy Injections for Skin
Mesotherapy Injections for Skin
Best Seller
Brief description:
Producer: Skin Renew
Manufacturer: International S.P.R.L.
Box contents: 5 ampoules of 5 ml each
Ingredients: Hyaluronic Acid 10mg/ml (3.5%), Coenzyme Q10, Vitamin A, Vitamin C, Vitamin D, Mineral Zinc, Mineral Copper, Amino Acids, Antioxidants
Name: Mesotherapy injection
Description
Additional information
Reviews (0)
Description
Mesotherapy Injections for Skin
Mesotherapy Injections for Skin Mesotherapy Skin Rejuvenation Cocktail
Skin Regeneration with SRS Technology Highly concentrated hyaluronic acid 3.5%  ensures optimal hydration of the skin and thus rejuvenates the water balance in the dermis. The skin looks fresh, youthful and fresh. Hyaluronic acid supports skin tone, which also results in better penetration of the other active ingredients in SRS Skin Renew.
Coenzyme Q10 is one of the most important components in energy production in cell membranes and mitochondria. In addition, studies have shown that coenzyme Q10 protects cells from UV rays, stimulates collagen production and has a positive effect on the structure of the skin as a whole.
Vitamin A
Retinol stimulates the formation of the skin collagen and hyaluronic acid. Accelerates the repair mechanism of damaged skin. It accelerates cell division and cell differentiation and thus is also beneficial for hyperkeratosis and scarred skin. It slows down skin aging by increasing enzyme activity (important for older skin), increases the skin's ability to synthesize collagen and protects the skin from free radicals.
Vitamin C
Provides the skin with the optimal dose of stable ascorbic acid, a vitamin known for its antioxidant and brightening properties. Vitamin C stimulates collagen production, improves skin appearance, slows down skin aging, protects and rejuvenates skin from free radicals. Increases flexibility and strengthens defenses.
Pigmentation is gently reduced and melanin production is regulated with additional minerals and amino acids
Mesotherapy
Skin Renew is a ready to use cocktail intermediate treatment blend enriched with high doses of active and passive nutrients and revitalizing ingredients for skin rejuvenation and an optimal supply of skin cells with nutrients in an anti aging treatment.
:Results
Results after 3 regular sessions
Rejuvenates the skin and tightens wrinkles
Reduce wrinkles and small bumps
Skin whitening
Deep and refreshing hydration
note:
Intradermal skin regeneration is injected to treat the face, neck and chest.
As a seller, we would like to point out that injecting products with or without lidocaine should only be performed by medically trained and qualified personnel, including the medical and healthcare sectors.
Additional information
| | |
| --- | --- |
| Weight | 0.500 kg |
| Dimensions | 20 × 15 × 5 cm |
---
Only logged in customers who have purchased this product may leave a review.